PX-C201TECHLITE™ SINGLE 1300nm LED SOURCE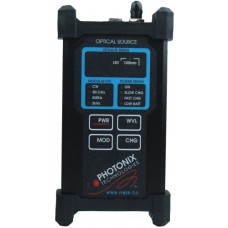 Product Code:
PX-C201
Availability:
Call For Availability
Price: $495.00

The TECHLITE™ optical sources, when used with a power meter, allow technicians to perform precise optical loss measurements in the field. The sources provide the stable light output required by optical power meters to determine power loss in fiber, connectors, attenuators, or other passive optical components. Structurally identical to the TECHLITE™ meters, these sources were also designed to be rugged. As with all Photonix test instruments, the internal circuitry is housed in an aluminum extrusion with high impact rubber bumpers.
The TECHLITE™ sources with output wavelengths of 1300nm LED,which has a modulated output at 30Hz, 500Hz, and 2kHz. This allows them to be used as tracer signal generators for use with most popular fiber identifiers or optical leak detection probes. The TECHLITE™ meters are powered by either four AA alkaline batteries or an AC wall pack with four AA NiMH cells (both the wall pack and NiMH cells are included). In addition to standard charge mode, the units feature an emergency quick charge mode that allows the user to charge the batteries in approximately 1 hour.
Parameter
Value
Parameter
Value
Model
PX-C201
Operating Temperature
-5°C to 45°C
Emitter
LED
Storage temperature
-10°C to 60°C
Wavelength
1300nm ± 50nm
Humidity
10%to90%non-condensing
Pout (min)
-17dBm(62.5/125)
Power
4-NiMH AA 600mAh (inc)*
Stability
±.05/.08dB/8hr
Battery Life
10 hrs (typ)
Bandwidth (max)
200nm
Trickle Charge
12-14 hrs
Modulation
30Hz,500Hz,2kHz
* Power: US 120 vac 60Hz(inc), 4- Alkaline AA
~ ST style port
~ 1300 nm single wavelength
~ Power output -17dBm into 62.5
~ Three modulations
~ Temperature stabilized output
~ Overfilling LED design
~ Rugged aluminum body
~ Quick charge feature