PX-Q403 FLASHPISTOL® TRACER SOURCE 1550nm,2kHz +1dBm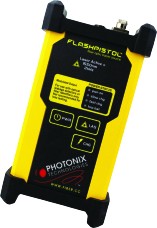 Product Code:
PX-Q403
Availability:
Call For Availability
Price: $995.00

The PX-Q4XX series of tracer sources are designed to inject modulated tracer light into a fiber for use with all Photonix Flashpistol® or Flashfinder® leak detection probes or fiber identifiers with 2kHz detection capability. The tracer sources are available as individual units or in kit form when paired with leak detection probes. Contact Photonix Technologies at the number below for additional kit details.
| | | | |
| --- | --- | --- | --- |
| Parameter | Value | Parameter | Value |
| Emitter | Laser, FP, Class 1 | EST Dynamic Range* | 76dB |
| Wavelength | 1550nm | Operating Temperature | -5oC to 50oC |
| Bandwidth | 5nm | Storage Temperature | -10oC to 60oC |
| Power (peak, max) | +1dBm | Battery | 4-AA NiMH |
| Modulation | 2kHz | Battery Life (min) | 14hr |
~ Full two year warranty

~ ST, SC, or FC output ports

~ Temperature stabilized operation

~ Interchangeable standard batteries

~ Rechargeable NiMH, Alkaline, or AC operation

~ Durable construction