PX-Q657 FLASHFINDER® AERIAL LEAK DETECTION SET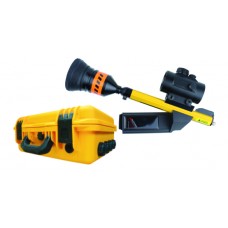 Product Code:
PX-Q657
Availability:
Call For Availability
Price: $9,100.00

The PX-Q657 Flashfinder® aerial leak detection set is state of the art in precision fiber optic fault location. This set is comprised of the patented PX-Q650 Flashfinder® detection gun and a PX-Q410 tracer source. It is designed to find infrared radiation from firearm, rodent, or burn damage in aerial cables as well internal splice enclosure fiber faults. While an OTDR can find approximate distance to a problem, pinpointing problems in the real world is more often about luck, intuition, or trial and error.
The patented PX-Q657 can locate aerial cable faults from ground level or a single bucket location. It can also be used to pinpoint faults inside a splice enclosure or hub using interchangeable heads. To use the Flashfinder® probe, simply squeeze and hold the trigger and sweep over a suspect area.
| | | |
| --- | --- | --- |
| Parameter | Value PX-Q650 | Value PX-Q410 |
| Emitter | Laser, FP, Class 1 | Laser, FP, Class 1M |
| Wavelength | 1550nm | 1550nm |
| Bandwidth | 5nm | 5nm |
| Power | <-1dBm | +15dBm |
| Modulation | 500Hz | 2kHz |
| Detector | InGaAs | N/A |
| Sensitivity (mode sensitive) | -85dBm, -75dBm, -40dBm | N/A |
| Operating Temperature | -5oC to 50oC | -5oC to 50oC |
| Storage Temperature | -10oC to 60oC | -10oC to 60oC |
| Battery | 9V Alkaline | 8-DD NiMH |
| Battery Life | 24hr standby, 10hr typical usage | 9hr typical usage |
~ Full two year warranty
~ Long range and local heads
~ Sunlight and fluorescent light immunity
~ Easy to use red-dot sighting scope
~ PX-Q650:Standard 9V battery operation
~ PX-Q410: Rechargeable NiMH, Alkaline, or AC operation
~ All metal construction