PX-B603 FLASHDETECTOR™ Leak Detection Set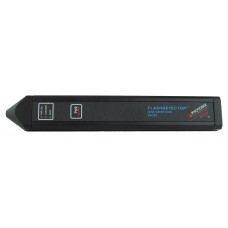 Product Code:
PX-B603
Availability:
Call For Availability
Price: $1,395.00

The FLASHdetector™ leak detection probe is state of the art in precision fiber optic fault location. Designed to find infrared radiation from splices, connectors, bends, damage, or open ports. While traditional fiber test equipment can identify bad fibers or approximate distance to a fault, pinpointing problems in the real world is often about luck, intuition, or trial and error.
The major advantage of the FLASHdetector™ over a visible laser however is that it can "see" cable faults in bright room light as well as in many blue, green, and black coated fibers!
| | |
| --- | --- |
| Parameter | PX-B603 Probe |
| Detector | Filtered Ge |
| Sensitivity (mode sensitive) | -60 dBm min |
| Modulation | 500 Hz/2kHz |
| View Angle | 20 degree |
| Operating Temperature | -5°C to 45°C |
| Storage Temperature | -10°C to 60°C |
| Humidity | 10% to 90% non-condensing |
| Battery | 4-AAA Alkaline |
| Battery Life | 40 hrs |
~ Full featured light source
~ Rugged aluminum packaging
~ Audio / Visual leak detection
~ Pocket size probe
~ Two year warranty