PX-C202N TECHLITE™ DUAL LED SOURCE - NAVY SPECS.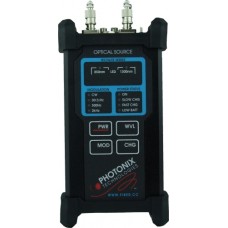 Product Code:
PX-C202N
Availability:
Call For Availability
Price: $1,195.00

The TECHLITE™ sources with output wavelengths of 850nm and1300nm LED,which has a modulated output at 30Hz, 500Hz, and 2kHz. This unit complies with U.S. Navy CPR requirements.This allows them to be used as tracer signal generators for use with most popular fiber identifiers or optical leak detection probes.
Parameter
Value
Parameter
Value
Model
PX-C202N
Operation Temperature
-5°C to 40°C
Emitter
LED
Storage Temperature
-10°C to 60°C
Wavelength
850/1300nm
Humidity
10% to 90%non-condensing
Pout (min)
-21dBm
Power
-NiMH AA60mAh(inc),US 120vac 60HZ(inc),4- Alkaline AA
Stability
±.10dB/8hr
Battery Life
10 hrs (typ)
Bandwidth
170nm(typ)
Trickle Charge
12-14 Hrs
Modulation
30Hz,500Hz,2kHz
~ 850nm and 1300nm wavelength
~ Meets U.S. Navy CPS requirements
~ Temperature stabilized output
~ CW and three modulation modes
~ Rugged aluminum packaging
~ NiMH, Alkaline or AC operation
~ Quick charge feature
~ ST, SC or FC style ports