PX-Q555 FLASHPISTOL® AERIAL LEAK DETECTION SET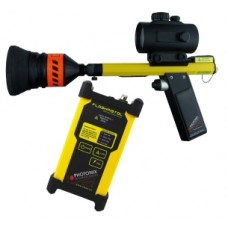 Product Code:
PX-Q555
Availability:
Call For Availability
Price: $4,975.00

The PX-Q555 Flashpistol® aerial leak detection set is state of the art in precision fiber optic fault location. This set is comprised of a PX-Q550 and a PX-Q404. It is designed to find infrared radiation from firearm, rodent, or burn damage in aerial cables as well internal splice enclosure fiber faults. While an OTDR can find approximate distance to a problem, pinpointing problems in the real world is more often about luck, intuition, or trial and error.
The patented PX-Q555 can locate aerial cable faults from ground level or a single bucket location. It can also be used to pinpoint faults inside a splice enclosure or hub using interchangeable heads. To use the
Flashpistol® probe, simply squeeze and hold the trigger and sweep over a suspect area.FLASHPISTOL® Aerial Leak Detection Set
| | | |
| --- | --- | --- |
| Parameter | Value PX-Q550 | Value PX-Q404 |
| Emitter | Laser, FP, Class 1 | Laser, FP, Class 1 |
| Wavelength | 1550nm | 1550nm |
| Bandwidth | 5nm | 5nm |
| Power | <-1dBm | >+5dBm |
| Modulation | 500Hz | 2kHz |
| Detector | InGaAs | N/A |
| Sensitivity (mode sensitive) | -85dBm, -75dBm, -40dBm | N/A |
| Operating Temperature | -5oC to 50oC | -5oC to 50oC |
| Storage Temperature | -10oC to 60oC | -10oC to 60oC |
| Battery | 9V Alkaline | 4-AA NiMH |
| Battery Life | 24hr standby, 10hr typical usage | 14hr typical usage |
~ Full two year warranty
~ Long range and local heads
~ Sunlight and fluorescent light immunity
~ Easy to use red-dot sighting scope
~ Flashpistol®: Standard 9V battery operation
~ Tracer: Rechargeable NiMH, Alkaline, or AC
~ All metal construction